Where to Go in Zurich for the First Date
You live in Zürich and finally met a very special person. Now you work upon the scenario how to find a way to his/her heart climbing the wall of shyness and his/her electric fence of pride. It's time to go for the first date.
SUISSEPIC has chosen some tips to have a practical and impressive Swiss date.
First of all there are plenty of things to see in Zürich such as museums or parks. Combined with walk along the Lake's embankment watching alpine beauty your intellectual trip could easily be transformed into a romantic one. Both men and women could find proper galleries, like Kunsthaus or The FIFA World Football Museum for example.
Photo: Maria Talanova / suissepic
Walking in Zurich
Yes, walking in Zürich is beautiful. We suggest to meet your future fiancée in the Old Town. Then explore city's cosy small streets and promenades discovering churches, towers. Stroll around Lindenhof Square enjoying the view of Grossmunster Church, City Hall and the Limmat river. Cross Weinplatz watching Weinbauer fountain, Rathausbrücke and the Rathaus.
Make a stop in Paraplatz square, find a bench for you both and have a sweet murmuring talk looking at surrounding beauty. Final destination should be at one of the local intimate cafe or restaurant. Look around and offer your companion to choose the pace.
Boat trip
Lake Zürich is extremely beautiful so a boat trip is another option. You can do it in many ways using boat public transport, renting a water bike or a small yacht if you have a skipper knowledge. You will have the chance to see how transparent the water in Switzerland is; how beautiful the eternal mountain landscape and how hungry the swans are.
We suggest to have a romantic fishing with a bottle of champagne to have fun in the boat.
Photo: Maria Talanova / suissepic
Nature hiking
Don't forget that Swiss people like to hike! A lot. So if you want to escape from the city with your sweetheart, we propose outdoor activities at Uetliberg (864m). You can enjoy the view from the top and then go down by foot or bike. There an observation tower that looks like the Eiffel Tower.
Combined with panoramas of Lake Zürich, the Limmat Valley and the Alps, isn't it the best place for the first kiss in Zürich? Enjoy picnic at the top with a bottle of wine, some nice fruit, bread and cheese.
Ice Skating
Ice-skating at Dolder rink that was built in 1930 and considered to be the largest open-air rink in Europe, is a perfect way to spend a romantic day. It will be funny not expensive. Admission fee is CHF 8.00 with renting skates for CHF 8.00.
Have fun at 6,000 sq meters of ice with someone special holding his or her hand, getting positive emotions.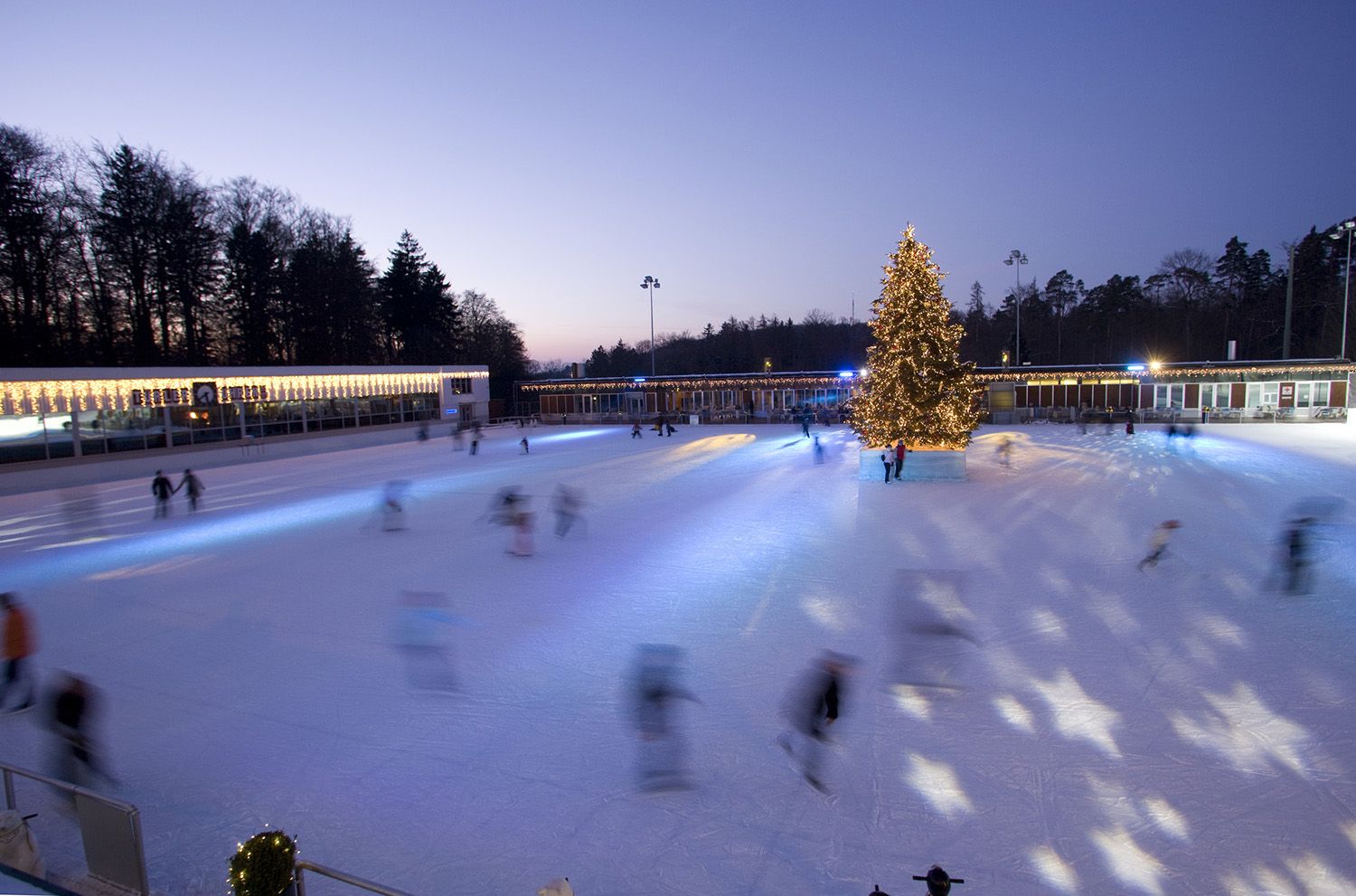 Photo: @Ice-skating at Dolder rink
Zurich Zoo
If you feel yourself being close to nature why not to invite your potential partner to the Zoo? Do you remember your last visit there? The Zoo of Zürich has more than 2,000 animals, an aquarium and a terrarium. You will enjoy talking watching turtles, penguins, monkeys, elephants and feeding them.
The Botanical Garden of the University in Zürich is good place for your joint leisure time. There are more than 3m plants here including exotic plants from all over the world. It's great for a stroll and quiet conversation.
After combining the list of the places we asked some locals about experiences.
 "I recommend a place that is not too high of a commitment, so you can reject soon if the date isn't going well. I've had good first dates at: Nietturmbar, Plüsch, Starbucks". 

Manuel, engineer
So it explains a lot. First of all the place is not that important for a date, but if you decided to prepare, don't forget to be practical.